Payment cards
A credit card provides a convenient and secure way to pay for goods and services without having to constantly wear you needed a cash. Payment card you can use not only for cash withdrawals from ATMs, but also at the tills of supermarkets (Cashback).

All

card payments

Fio

banka

are

without

charges

.


You can

take advantage of

first

choice

in the month

free

from

any

ATM in the

world.
Service Cashback allows free to ask for cash on purchases at over € 5 at the same cash register where you pay. Maximum height of selection is 50 euros, the minimum is not set.
Fio banka's number for announcing the loss or theft of a card: +421 220 850 410

Please note: If you plan to travel abroad, where you will use your payment card, please inform us via Fio service or at any of our branches about the date of travel and the destination in which you will be located, in order to avoid any possible blocking of the payment card.
How non-contact payment works
Non-contact payment can take place at all domestic and international retailers who display a symbol for non-contact payment cards: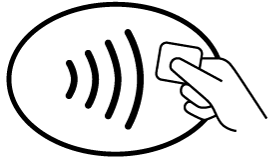 Your card must be placed close to the sensor, which is marked with a non-contact payment symbol. Information on the card is read after an acoustic signal sounds, and some sensors indicate that payment has been approved.
The retailer will then provide you with a receipt.
---
Choose from

our offer

of payment cards